These intergalactic GMO mutants honor two things: metal and cheeseburgers. See how Earthly gear guideposts Iommi and Butler influence their tasty setups.
---
If you were to ask my wife, "What two things sum up Chris?" … she'd likely respond with "grilled meats and heavy metal." So, given the chance to interview the self-appointed (and unchallenged) founders of "Drive-Thru Metal" that solidified their crispy claim with classic cuts "Frying Pan," "Sweet Beef," and "Pair-a-Buns," I ordered a full plate.
The thing is, you don't just interview guitarist Slayer MacCheeze and bassist Grimalice. Not because they're from the "bowels of outer space" and don't speak or understand English. They converse quite well. But these seasoned freaks don't do anything for free. Everything's on the menu and it's all for sale. Thankfully, minutes before doors opened at Nashville's longstanding rock beacon, Exit/In, Mac Sabbath's techs Bill Woodcock and Jonathan Hischke summarized their monster masters' tangy tone tools. The flash-fried, seedy conversation quickly taps some key signature gear of another Sabbath that equally sweetens and thickens the band's sound like a condensed and chilled milkshake. Plus, there's a story about how one fateful Black Friday deal provided an iconic, golden-arch bass. Here's to a fun-hearted Rundown with the Milky Way marauders that fight back against stale food and rotten riffs. And by the end, we bet you'll be saying "I'm loving it."
[Brought to you by D'Addario XS Coated Strings: https://ddar.io/XSE.RR]
Space-Traveling SG
"I don't know much about these guitars, but legend has it, Slayer MacCheeze came through the time-space continuum with a guitar in each hand," states MacCheeze tech Bill Woodcock. With no help from Woodcock, we can deduce this devilish doublecut has an eerie lineage descending from (or influenced by) an early 2000s Gibson Tony Iommi SG that was possibly grabbed during the first full production run of signature models for the other Sabbath's riff lord. This cherry cruiser rides in standard tuning, and all Slayer's beefeaters take Ernie Ball 2223 Super Slinkys (.009–.042) for optimal cheese shredding.
From Parts Unknown
This blackheart has some DNA particles from the Iommisphere, but has been updated and intensified with a set of active EMGs that char MacCheeze's sound to a well-done crisp. This is Slayer's main C# guitar.
The Wham of That Burger Man
Slayer decided to do some covers on this run (Kiss and Motorhead), and he needed something unusual for those special songs. So, MacCheeze tricked his tech Bill to borrow the hammer of the gods of ground chuck—his Gibson Custom Shop '64 Lonnie Mack Flying V. The whammy bar that was Mack's signature addition to his Vs has been removed for use as a spatula.
Burger Stack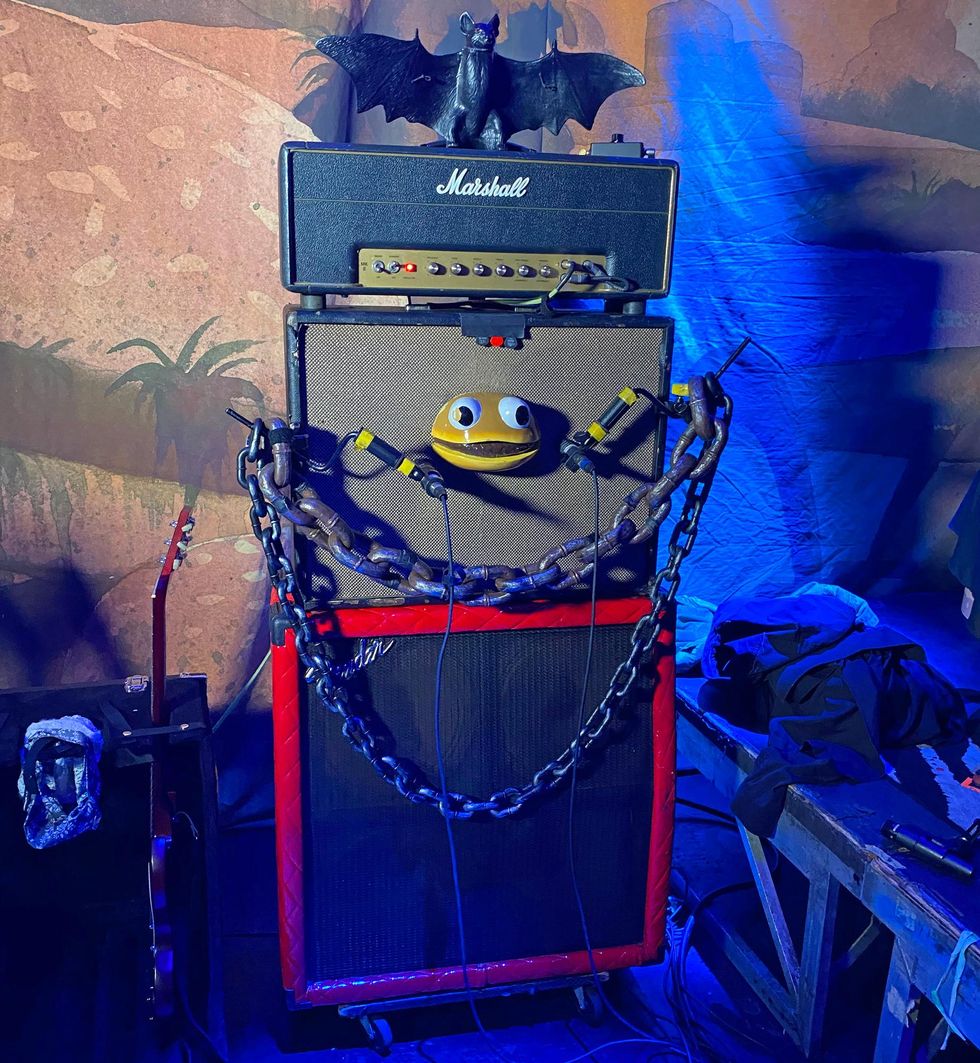 After several tours supported by a Soldano Avenger—a 50W head featuring the heralded SLO-100 circuit—MacCheeze is plugging into this Marshall 1987X 50W plexi reissue, because the Avenger was burnt to a crisp during rehearsals. The modern plexi hits a custom 2×12 cab and a Fender 4×12 that was a cabinet for a solid-state M-80, but appears to have been customized by a stripe-shirted burger bandit who later sold it to MacCheeze.
Secret Weapon
Woodcock—not knowing how to make a Marshall melt like a Soldano or even a Laney LA100 BL—uses this JHS Little Black Amp Box to attenuate the plexi so it can sizzle like a SLO-100.
Taste Bud Cashes In on Turkey Day
Like his guitar-playing weirdo brethren, Grimalice (an overgrown and questionable taste bud) refused to talk to PG, but we found Ampeg-hoodie-wearing grifter Jonathan Hischke nearby and convinced him to cover peculiar purple's setup. Shady character Hischke believes Grimalice scored this unique M-style bass during a Thanksgiving Day sale at Sweetwater. It's completely stock except for the fretboard being painted barn-red, leaving the playing surface tacky as tar. Don't let Grimalice's lackadaisical demeanor fool you. He likes a good tussle when tangoing with his instruments.
Did Somebody Say M?
It'd be hard for any human or alien to miss these golden arches from this solar system or beyond.
Never Say Fry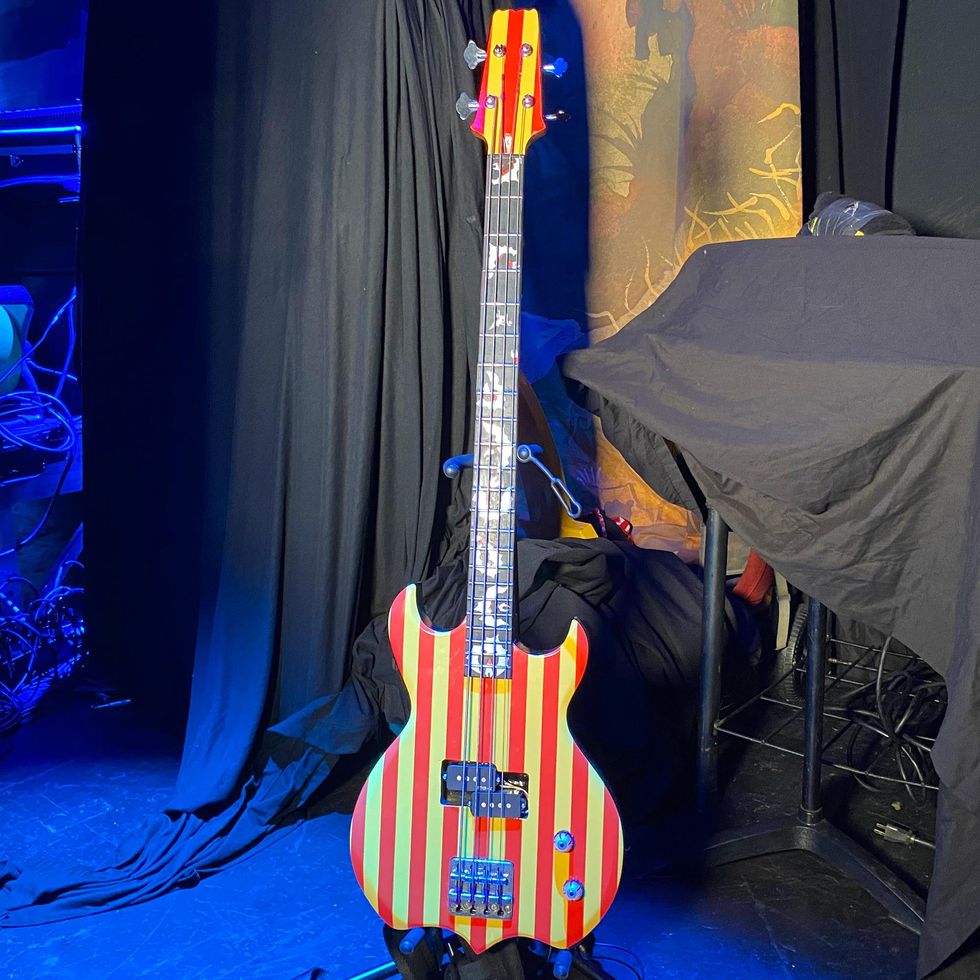 If Grimalice was from this universe, you could understand why he'd have a 4-string modeled after a '70s custom piece used by Geezer Butler for Black Sabbath's Top of the Pops performance of "Never Say Die." But he's not lord of this world nor from it, so we must assume this stripped stallion that has more definition than a Merriam-Webster Dictionary gets worked for the lower-tuned jams.
Bat, Please!
Grimalice has never met an animal he wouldn't grill, fry, or sauté, and a bat is no exception. So flying vermin decorate his fingers' dancefloor.
Spooky Stack
The large, lavender governor of gustation plugs his doom brooms into a Fender Bassman 100T bruiser that feeds an Acoustic B410C that seems to have come from the same sandwich-stealing gear hoarder that sold Slayer his M-80 4×12.
Grimalice's Pedalboard
Putting all the toppings on his beefy bottom-end are these to-go boxes that include a DigiTech FreqOut, an Electro-Harmonix Steel Leather Bass Expander, a Doc Lloyd Photon Death Ray compressor, a Broughton Audio Always On High Pass Filter, an Aguilar Tone Hammer preamp, an EarthQuaker Devices Park Fuzz Sound, a Behringer BEQ700 Bass Graphic Equalizer, a Mantic Effects Vitriol, and a Dunlop Geezer Butler Cry Baby Bass Wah. And like MacCheeze, Grimalice employs a Shure GLXD16 Guitar Pedal Wireless System.